Star Nissan teams up with Evanston Animal Shelter
For our 19th #ActOfKindness in our #30ActsOfKindness in 30 weeks initiative, Star Nissan partnered with Evanston Animal Shelter and hosted a Pet Donation Drive to show our support for our furry friends over at EAS! Evanston Animal Shelter is committed to providing compassionate and humane care for abandoned, abused and relinquished animals and to find them homes through rehabilitation, foster care, adoption, and rescue organizations.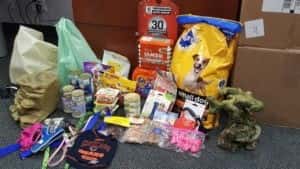 We accepted donations of all types in our store from August 1st through August 18th. Customers and employees donated useful items, such as leashes, bowls, food, laundry detergent, paper towels and monetary donations. Star Nissan is dedicated to enhancing our community and supporting organizations like Evanston Animal Shelter!